Once free agency starts on Sunday, the Rockets are planning to recruit Jimmy Butler to push the Philadelphia 76ers for a sign-and-trade deal that would allow the All-Star forward to join James Harden and Chris Paul in Houston, league sources tell ESPN.
The Rockets don't have the salary-cap space to sign Butler, so they'd need the threat of the Sixers losing him for nothing to a team with the available room to motivate Philadelphia into a trade. The Rockets also would potentially need to make this a multiteam deal to satisfy the rules of base year compensation that would cover Butler's outgoing salary.
ADVERTISEMENT
The Sixers plan to be aggressive in signing Butler to a new deal, sources said, and could blunt a Rockets push with a full five-year, $190 million offer at the start of free agency on Sunday night. The Sixers could offer Butler a four-year, $146.5 million deal, too.
Butler would be eligible to sign a four-year, $140 million contract on the way to the Rockets, but Houston likely would need to include two of these players – center Clint Capela, guard Eric Gordon and power forward P.J. Tucker – to make the financial deal work, sources said.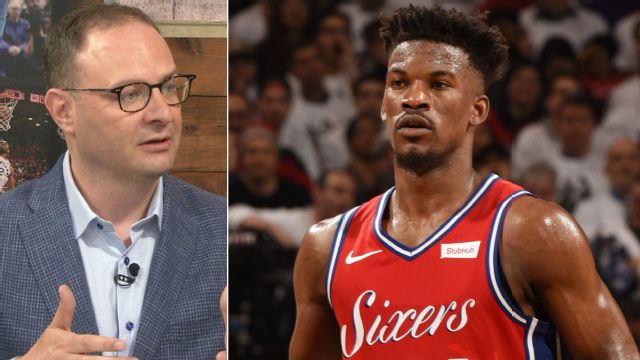 play
1:12
Woj: 76ers aren't interested in letting Butler walk
Adrian Wojnarowski looks into the Rockets' interest in a sign-and-trade for Jimmy Butler and the 76ers' intentions to still sign him to a deal.
The 76ers are facing a free agency that includes Butler, Tobias Harris and JJ Redick. They're expected to make a significant four- or five-year offer to keep Butler, whom they acquired in a trade with Minnesota for Dario Saric and Robert Covington in November.
Find everything you need to know about the latest free agency and trade news.
• All the latest news, buzz and rumors
• How the draft sets up FA
• Who are Lakers' free-agent targets now?

• Which teams have cap space?

• Trade tracker: Grading the deals
The Rockets offered Minnesota four future first-round picks for Butler before the Timberwolves agreed to the trade with Philadelphia, league sources said.
In a potential trade with Houston, the 76ers could turn Butler into a large trade exception and redirect the Rockets' assets to additional teams.
If the Sixers were to lose Butler in free agency – and were in position to keep Harris and Redick – it is possible they could simply want the payroll flexibility and dismiss the potential idea of a sign-and-trade scenario for Butler.
Sponsored Headlines
CIGNAPlus Savings$123.96 /yr - dentalplans.com
SKECHERS Relaxed Fit Superior - Milford Men's Slip on Shoes$54.99 - zappos.com
Earth Origins Bosk Benji - Womens Sandal - Red$80 - earthshoes.com